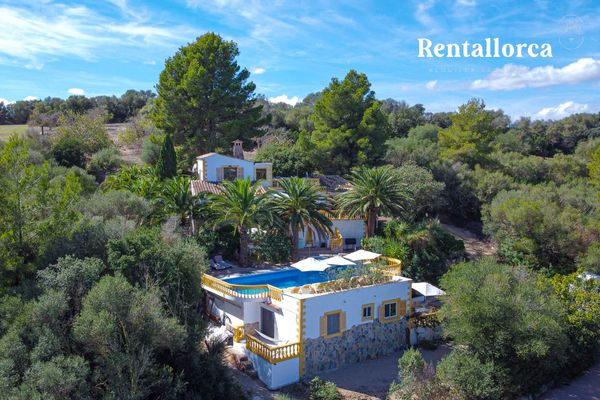 Finca independiente con licencia vacacional
8 People · 6 Rooms · 5 Bathrooms
                Just entering the finca, the multitude of palm trees next to the road will impress you.

The land, of approximately 10,782m2, consists of two plots and is located at the top of the hill, so it has incredible views over the north of the island.

The construction is 344 m2 and offers a lot of living space. It consists of a main house with a separate guest apartment, a pool deck and a separate vacation home.
              
                The upper two floors of the main house offer 113m² of living space with an open-plan living and dining room with fireplace and American-style kitchen, a bathroom, a master bedroom with dressing room and access to the roof terrace, as well as a guest room. separate room which should ideally be used as an office, but an additional bedroom is currently located. At the front and back of the house there are more terrace areas with seating areas to enjoy life outdoors.

The guest studio of 35m² on the ground floor has a bedroom, an open kitchen/living room and a bathroom.

Below the pool area terrace is another 49m² flat with a living and sleeping area, an open kitchen and a bathroom. There is also a terrace in front and behind the flat.

The property offers a guest house of approximately 82m², which has 2 bedrooms (or just one bedroom and another room for a separate dining room or fitness room), 2 bathrooms, an open kitchen-living room with a fireplace and a terrace. with barbecue area in front of the house.

A large garden with a pool and good views in the background will enchant you!
The house has its own well and a new solar system. In addition, the current owners have provided beautiful exterior lighting, which makes the estate a very special place at night.

Location of the farm:

At the top of the hill and surrounded by windmills, the medieval village of Montuiri. The farm is located 28 kilometers east of Palma, in the center of the island.

In Montuiri you can get fresh local produce and some very tasty Majorcan wines. The whole area has an agricultural tradition, so you can find high quality products such as sea salt, honey and olive oil.

Of great importance is the nearby prehistoric site of Son Fornes, which dates back to 900 BC. and in which houses and towers can still be seen. You can get to the Son Fornes Museum, located in the Molí des Floret building, a restored 18th-century corn mill.

Not far from the town are the caves of Son Company and Son Comelles, which are said to date back to prehistory.

The most beautiful viewpoints in the area are at the top of the "Puig de Sant Miguel", where the Bona Pau sanctuary is located, dating from 1395 and built on an old hermitage.

Nearby is one of the best golf courses in Mallorca: the Son Gual championship course.

Equipment:
* Certificate for 8 courses
* ETV license for 8 courses
* own well
* 6KW solar system
* plenty of parking space
* large pool area
* panoramic view
* insulated windows in the main building
* large planting around the house
* several terrace areas
* warehouse
* separate laundry
* oil heating 2x 500 ltr.
* vegetable patch
* bathroom in the main house with underfloor heating
* partial air conditioning
              
---