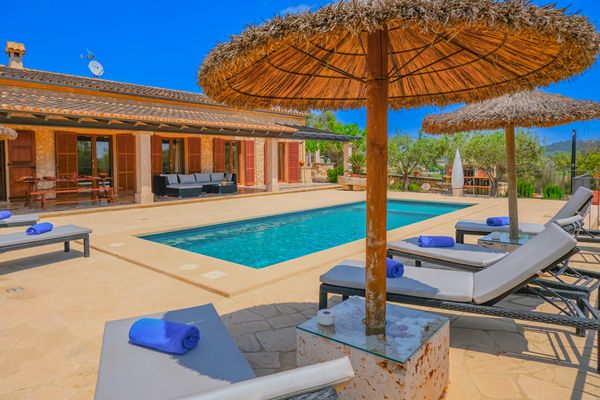 Finca Son Roca
6 People · 3 Rooms · 1 Bathroom
              Incredible views from  Finca "Son Roca" located in the heart of the island of Mallorca.
            
              The large terrace that houses the farm has a covered space perfect for dining with family or friends, a good bottle of wine from Can Coleto, fresh produce from the Montuiri market, all these products in the vicinity will make your stay easier.

From the terrace with a 9 meter long pool and comfortable outdoor furniture, you will be able to appreciate the great view that this farm offers you, surrounded by vegetation and green spaces throughout the farm. When you get out of the pool you can dry your drops of water lying on the perfectly placed hammocks. The outdoor kitchen space includes the grill, right next to it you will have a small table with stone seats that you can enjoy being in this space.

The interior space has all the rooms on a single floor offering incredible views at all times from any corner of the house. The large living room has a comfortable sofa that will help you relax while you watch the flat screen TV with internet connection and good Wi-Fi throughout the house, from the fully equipped kitchen you can eat at the table there, microwave, dishwasher, toaster, kitchenware and many more amenities that this space houses. The two bathrooms have enough space for you to put all your belongings comfortably, well lit with natural light, walk-in shower, bath towels and pool towels.

Without a doubt, we recommend the Finca "Son Roca" so that you can spend a beautiful and relaxed holiday with good views, in the heart of Mallorca and the tranquility that this beautiful space will give you.

From Rentallorca we wish you a happy holiday with family or friends.
            
License number: ETV/10373
---
---
---
Price details
Select dates to show the final price.
Cancellation policy
Free cancellation up to 30 days before check in. Get back 100% of what you paid.
If the reservation it is done when there are less than 30 days left for the check in, the reservation can be canceled in the next 24 hours without cost.
---
Things to know
House rules
            

Check Out:

 No later than 10:00
          
Smoking inside the house is forbidden
Parties / events are not allowed
---