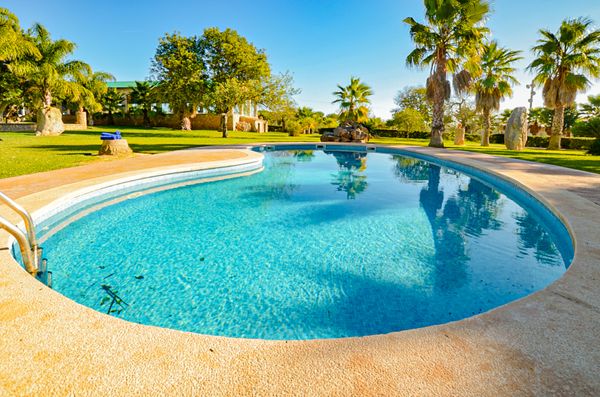 Finca Son Perot
8 People · 4 Rooms · 5 Bathrooms
              Finca "Son Perot" is a finca located in a small town called Maria de Salut, a very quiet town and close to several places of interest.

The green space and the rural environment is unique, if you like sports, the outdoors, it is a suitable place for you, the semi-Olympic pool with hot water will be waiting for you...
            
              Few finca are like this one, the heated pool, stone materials, high quality furniture, every corner is designed so that the guest falls in love with the "Son Perot" finca

The outside area of ​​the finca is incredible, two swimming pools on a large green lawn, palm trees and fruit trees create a unique and exclusive atmosphere of the finca.

If you like to swim, you can do it both in the indoor pool doing a few lengths or in the outdoor pool to relax. When you finish, don't hesitate to dry your drops of water lying in the sun because you deserve this vacation. The pool measures 9x4 meters wide with a minimum depth of 1x40 meters to 2 meters, the water is salty.

After a long day, what better way to buy fresh produce from nearby Maria de la Salud and enjoy a dinner of local produce on the charcoal grill under the covered porch?

The natural stone of the house makes it even more special, the covered outdoor furniture invites you to spend some quiet time. If you like modern Balinese beds you are in luck, here you will find two beds where you can relax in the beautiful green Mediterranean garden.
 
Inside the villa you can find 4 double rooms and 5 fully equipped bathrooms to make your stay here more comfortable.

The living room together with the well-lit kitchen create a pleasant atmosphere of spaciousness. Comfortable sofas to be able to rest and have a marathon of movies on the large flat screen television with international channels, or simply take a book and disconnect from the outside, if you like to play the piano you can do it.

If you like animals you can visit ducks, peacocks and horses. Feel free and if you feel like it you can visit them.

*If you want the water in the indoor pool to be hot, you must notify us 4 days before check-in, as the time it takes to heat the water, this entails an extra cost of 1,500 euros per stay.

- Electricity not included.
The electricity in this house will be charged separately according to the actual consumption and the meter reading on check out. The electricity usage will be deducted from the deposit (0,35 Euro / kWh).
The deposit is: 300 Euro (refundable).
            
License number: ETV/5876
---
---
---
Price details
Select dates to show the final price.
Cancellation policy
Free cancellation up to 30 days before check in.
---
Things to know
House rules
            

Check Out:

 No later than 10:00
          
Smoking inside the house is forbidden
Parties / events are not allowed
---