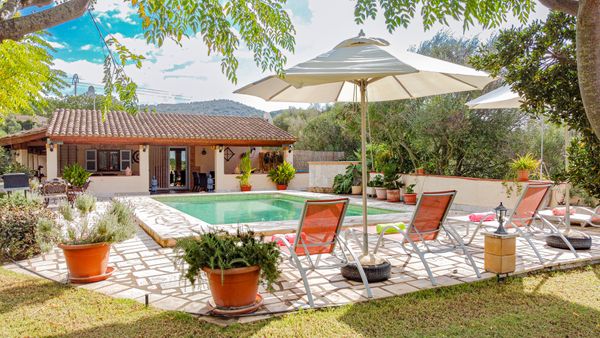 Finca Son Cladera Petit
4 People · 2 Rooms · 2 Bathrooms
              Finca Son Cladera Petit is a property designed to enjoy peace and tranquility. It is definitely a unique place in a very quiet area and minutes from the hustle and bustle. Composed of three bedrooms and two bathrooms.
            
              Less than 15 kilometers away from the beach we will find this wonderful villa with a rustic and modern design at the same time.

The outdoor area of the house is undoubtedly the one that stands out most, the large swimming pool invites you to take a break or enjoy the summer, when you leave the pool you can dry the drops of water lying on the hammocks watching the warm Mediterranean sun. The covered terrace with high-quality outdoor furniture next to the pool makes it an even more attractive combination to choose to come on holiday here. The great Mediterranean atmosphere makes it even more welcoming. Under the porch you can have breakfast, dinner or spend a day in the shade playing board games with family or friends or have a refreshing beer in Mallorca. 

The interior designed with charm and rural at the same time. The common areas of the dining room and living room are perfectly lit, the living room offers many amenities such as comfortable sofas and TV with connection for all types of channels or watching a series with family or friends.
 
In the living room we will find a large fireplace that will serve for the coldest winter nights to have the warm heat of the fire with a good wine. The kitchen is perfectly equipped with appliances such as a dishwasher, stove, oven, fridge/freezer and microwave, as well as an electric kettle, a coffee maker and a toaster.

In the bedrooms a lot of comfort and light awaits you, one of the three rooms has two beds of 1.80 x 1.90 m and single beds of 0.90 x 1.90 m invite you to relax and sleep in a quiet environment. One of the two bathrooms has a morning where you can relax after a day of sightseeing in Mallorca, the other has a modern and spacious shower. 

Son Macià is a small village that belongs to the municipality of Manacor, located in the area of Llevant. 
In Son Macià you can go shopping in big shops, have a coffee or dine in a good restaurant. 

Without a doubt, Son Cladera Petit is perfectly prepared for your stay.

Electricity price:  0.35 Euro / kWh.
            
License number: VT/1749
---
---
---
Price details
Select dates to show the final price.
Cancellation policy
Free cancellation during the first 24 hours, after making the reservation.
If you cancel after the first 24 hours or up to 30 days before check in, you will receive a partial refund, you will get back 70% of what you paid.
---
Things to know
House rules
            

Check Out:

 No later than 10:00
          
Smoking inside the house is forbidden
Parties / events are not allowed
---