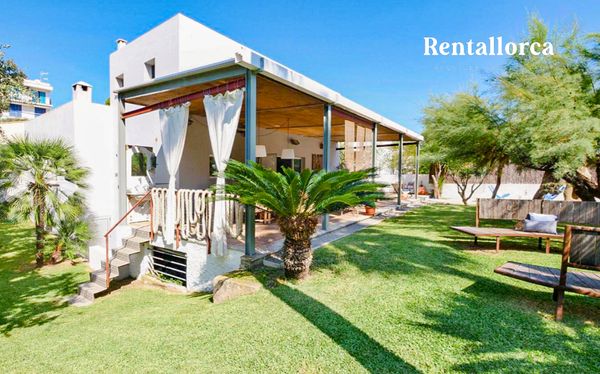 Villa Clara
9 People · 5 Rooms · 4 Bathrooms
              The spectacular Villa Clara is a modern house with a picturesque style with an incredible location, located in the Northwest part of the island, 200 meters from the beach of Cala Clara.

In this unique location you can enjoy the soft sounds and winds of the sea at any time of the day. The outdoor area is presented as a well-kept garden with a private pool accompanied by outdoor furniture and comfortable hammocks for sunbathing. Here you can fully enjoy yourself while floating in the pool, leaving behind any thoughts of everyday life.
            
              In the lush Villa Clara you can enjoy barbecue sessions in the evening thanks to the barbecue that is already prepared and waiting for you. On the covered terrace next to the house, there is a nice dining table for 9 people, so you can enjoy culinary dinners combined with tranquility and fun on warm summer nights. It is also a perfect place to have breakfast. The covered terrace and garden create a charm and style that could have been lifted straight from a design catalogue. We are sure that everyone will want to spend their time in this area while enjoying the relaxing atmosphere.

The house has been designed in a modern style and at the same time fits in perfectly with the surroundings. The white façade and black window openings accentuate the simplicity of the property's architectural style.

 The result is an extraordinarily comfortable environment. With large windows, direct access to the terrace and incomparable views of the garden, a spacious and well-lit living-dining room offers you an extremely comfortable sofa area where you can relax as long as you want. Here you can lose yourself in stimulating conversation or a book, or perhaps sit back and watch one of your favorite movies, made possible by the large flat screen TV with satellite connection.

The original antique wooden dining table is excellent and totally appropriate for enjoying an elegant and sophisticated group dinner indoors. The generously sized kitchen is fully furnished with top quality fixtures.

The rooms have a certain charm designed by the owner in a modern gothic style. They are made of high quality materials which make you feel even more comfortable during your stay at Villa Clara.

Almost all the rooms are en suite, which will allow you to have your privacy inside the house.

The villa is equipped with air conditioning and WIFI, along with an iron and hairdryers for your convenience, so there's no need to waste valuable luggage space by bringing your own from home.
In addition to the impressive features, the location and amenities of this villa are truly unique, which you can clearly see for yourself by looking at the description and photos of the property.
            
License number: ETV/3727
---
---
---
Price details
Select dates to show the final price.
Cancellation policy
Free cancellation up to 30 days before check in.
---
Things to know
House rules
            

Check Out:

 No later than 10:00
          
Smoking inside the house is forbidden
Parties / events are not allowed
---